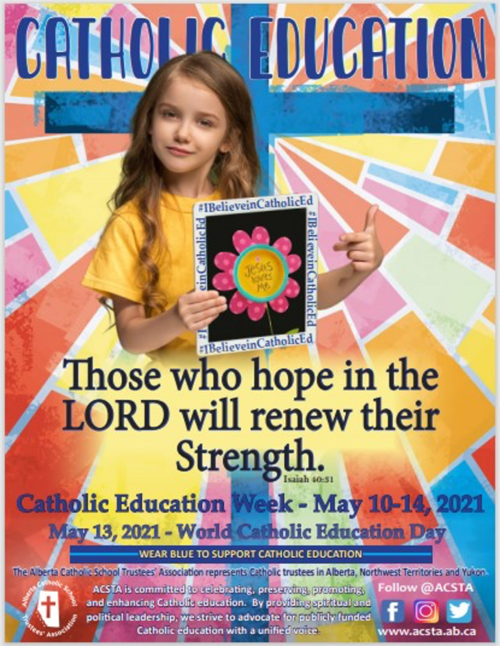 Catholic Education Week 
May 10-14
Catholic Education Week in Alberta arrives as all students have been transitioned to at-home learning. We invite you to join all those across this province and beyond in support of Catholic education in unity and prayer. May God bless our Catholic schools!
Alberta's Catholic schools have been under tremendous strain as they strive to provide an excellent, faith-based Catholic education to every student. Our communities embrace our schools, their students, educators, staff, and families during these difficult and trying times.

Provincial Day of Prayer for Alberta's Catholic Schools   
Thursday, May 13 has been designated by Alberta's Bishops as a provincial day of prayer for Catholic schools. Consecrated religious, clergy, and all stakeholders in Catholic Education are invited to pray for Alberta's Catholic schools especially on this day.

Please share your plans and prayers on social media to spread your support.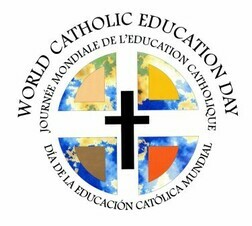 World Catholic Education Day - Thursday, May 13, 2021 

ALL are invited to wear blue in support of Catholic Education. Post and share a picture on social media, and use the hashtags #IBelieveInCatholicEd, #BlueforCatholicEd, and #GSACRDproud.
Every year, 40 days after Easter on Ascension Thursday, Catholics across the globe give thanks for the gift that is Catholic education through the celebration of World Catholic Education Day.
Catholic education has served nations for centuries through teaching students in their faith. Throughout Canada, provinces, territories, and dioceses dedicate special days or weeks to celebrate Catholic education. In keeping with these celebrations, World Catholic Education Day is a time for Catholics around the world to take a moment to pause, reflect, and pray on the gift that is Catholic education.
This year, World Catholic Education Day will be on May 13.
Prayer intentions for Catholic Education Week
That our Catholic schools may be blessed with courage and energy to continue to live out their invaluable role in our society.
We pray for all educators, administrators, and staff who dedicate themselves daily to authentic Catholic education
We pray for all students, for their safety, and for their learning, that they may know the love of God.
We pray for all families, that they may grow in faith and unite in their prayers.
> > > Prayers for Catholic Education Week 



Provincial Prayer with Alberta's Bishops
Hosted by Catholic school districts
Shared virtually at 11:00 AM each day.
The mass will be conducted in both French and English.

> > > Download Letter from The Catholic Bishops of Alberta and the Northwest Territories (PDF)
 

 

Bishop

School District

Monday, May 10

Liturgy

Bishop David Motuk

Eparchy of Edmonton

Edmonton Catholic

Tuesday, May 11

Seven Sorrows and

Seven Joys of St. Joseph

Archbishop Pettipas

Archdiocese Grouard-McLennan

Grande Prairie Catholic

Wednesday, May 12

French and English

Holy Mass

Archbishop Smith

Archdiocese of Edmonton

Edmonton Archdiocese

Thursday, May 13

Liturgy

World Catholic Education Day

Bishop Terrio

Diocese of St Paul

Calgary Catholic

Friday, May 14

Liturgy

Consecration to Joseph

Bishop McGrattan

Calgary Diocese

Calgary Catholic