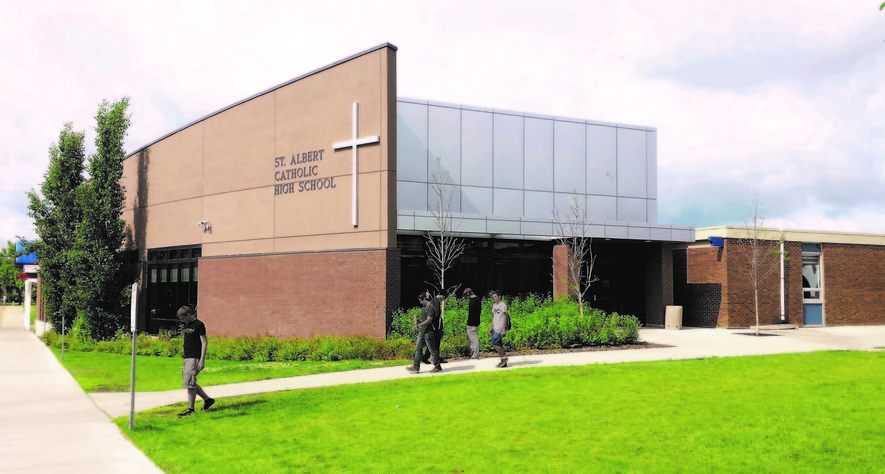 Project Detail:
Project Manager:  Alberta Infrastructure
Expected Completion: Fall 2017
Scope of Work:  
HVAC upgrading (heating, ventilation and air conditioning)
Learning Space Updates:  Science labs, Diverse Learning Space Needs, Conversion of Library space to Learning Commons, Washroom upgrades including Gender Neutral configuration, CTS Shop reconfiguration, Ancillary Classrooms including Music and Art, Change Rooms reconfiguration, Lunch/Study reconfiguration, Media & Radio area updates, Gym storage & fitness reconfiguration
Roof replacement, Parking Lot resurfacing
Project Milestones:
Construction Tender Awarded:  August 2015 (Whitson Contracting) 
Design Tender Awarded: June 2014 (Group2 Architecture)
Funding announced:  February 2014
Project Updates:
As of July 2016  
All necessary abatement was completed during the Christmas 2015 break and demolition work was in progress throughout December 2015 and January 2016. Work is being completed in three phases to minimize disruption to learning and is expected to be completed by September 2017.
Phase 1A is expected to be complete by September 2016
Phase 1B will commence over summer break and is expected to be completed by September 2016.
Phase 2 is expected to take approximately 2 months and is expected to be completed before Christmas 2016.
Phase 3 is more involved and is expected to take about 6 months from January to June 2017. The summer will be a buffer and account for any experience delays which should have the project finished for student utilization by September 2017.