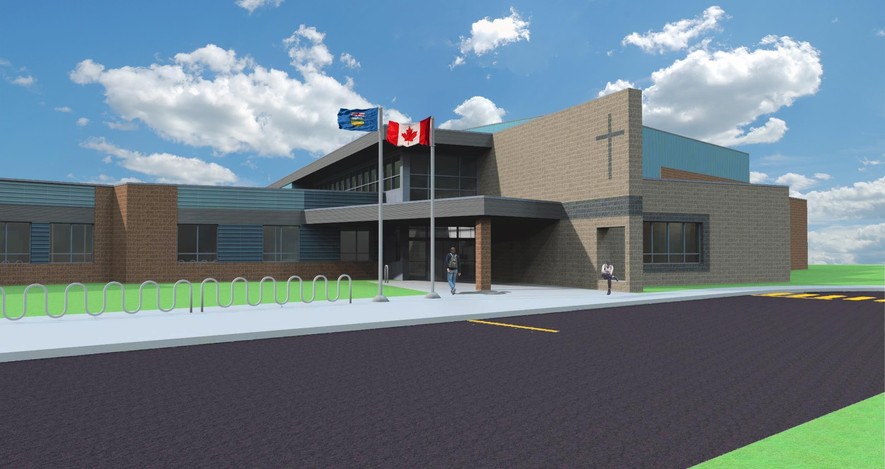 School Details:

Kindergarten - Grade 9

Location:  1 Joyal Way, St. Albert AB 

Planned Opening:  September 2018 (All Grades)

Capacity:  400 students

Principal:  Mr. Greg Lamer (News Release)

Website:  www.saa.gsacrd.ab.ca

Programming:

News Release
• Advanced Academic Program (Grades 4 - 6) 
• Advanced Placement Program (Grades 7 - 9) 
• Recreation Academy (Grades 4 - 9) 

Project Details:

Project Manager:  Alberta Infrastructure

Funding announced:  October 2014

School Site: Jensen Lakes Development, St. Albert, AB

Sod Turning:  November 9, 2016 - News Release

Design Tender:  Awarded to BR2 Architecture

Construction Tender:  Awarded to Binder Construction, September 2016

Project Opening:  September 2018 (target date was January 2018)
Are you interested in attending Sister Alphonse Academy?
If you are interested in registering for the school please email the District at communications@gsacrd.ab.ca indicating your interest in attending the school and the grade levels of your children entering school in September 2018. The planned opening for the school is now September 2018 and we will contact you with an update on timing and the transition plan prior to the end of June 2017. In the meantime, we encourage you to register your children for September 2017 with one of our current District Schools.
The attendance boundaries for the school are now approved;
Neighbourhoods designated to the school are Jensen Lakes and Erin Ridge North (residences north of Erin Ridge Drive). Other families interested in attending the school can do so if space is available. 
The Recreation Academy has closed boundaries which means you must live in the attendance boundary to attend. Other families interested in this Recreation Academy program could access the program at Vital Grandin Catholic School.
Consultation on Programming and Boundaries 
Phase 2 Consultation - March 2017
The Phase II Consultation has now concluded. A summary of the feedback received can be accessed through the "What We Heard Report," authored by J. Bloomfield, Strategy Plus consultant.
Phase 1 Consultation - October/November 2016 
The Phase 1 Consultation has now concluded. A summary of the feedback received can be accessed through the "What We Heard Report," authored by J. Bloomfield, Strategy Plus consultant. 
Project Development and Construction Updates:
February 2018
Construction has been progressing throughout the fall and winter on the exterior and interior of the school. It is expected the completion of construction could be as early as the end of May 2018.
June 2017
Weather-related construction delays have resulted in an adjustment to the school opening from the initial planned target of January 2018 to September 2018.
Spring 2017
The construction is well underway and for those who have visited the site you will see the steel beam structure taking shape! We will be posting photos of the construction progress on our District Twitter account @GSACRD and will hashtag the photos with #BuildingSAA 
October 2016
Alberta Infrastructure has awarded the construction contract to Binder Construction. They will be building the school in conjunction with BR2 Architects. The District will be planning a Sod Turning event for early November.  
July 2016
The Board of Trustees approved Guidelines for Public Consultation and a two-phase process to gather information that will inform decisions on boundaries and programming for the school. Information on opportunities to participate in the process will be communicated in late September.
April 2016
Sister Alphonse Academy is expected to open its doors in January 2018. At this time, architects have developed detailed plans for the school site including floor plan layout, elevations and conceptual drawings of the exterior.
February 2016
News Release on Naming of Schools - School in Jensen Lakes Honors Heritage and Legacy of Excellence