2019 - 2020 School Year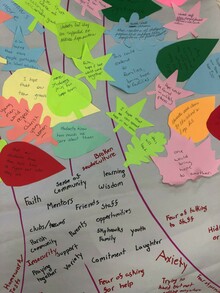 To keep this promise of ensuring success for every First Nations, Métis, and Inuit student, we are committed to achieving these strategies in our Student-Focused School Improvement Plan 2019-2020, which is based on our Division Three-Year Education Plan for 2019-2022.
Students will:
use Gallup Student Poll Survey results to set goals to increase hope, engagement, entrepreneurial aspirations, and career and financial literacy;
work through innovative partnerships between home and school to address push/pull factors;
learn how to take an active role in Truth and Reconciliation;
learn with resources (e.g., Indigenous literature, prayer table artifacts) and strategies suggested by the Advisory committee;
learn with their parents about the Division's work in Truth and Reconciliation through the Leadership Committee;
engage in meaningful activities on National Indigenous Peoples Day as part of Truth and Reconciliation.
We are excited to be entering year four of our professional learning journey with all staff in our division. This year, with the mandate of Alberta Education's Teaching Quality Standard, we are focused on teaching for conceptual understanding to ensure that we address the key concepts outlined for teachers to learn about and integrate into their everyday classroom practices:  
Applying Foundational Knowledge about First Nations, Métis and Inuit
5. A teacher develops and applies foundational knowledge about First Nations, Métis and Inuit for the benefit of all students.
Achievement of this competency is demonstrated by indicators such as:
(a) understanding the historical, social, economic, and political implications of:
treaties and agreements with First Nations;
legislation and agreements negotiated with Métis; and
residential schools and their legacy;
(b) supporting student achievement by engaging in collaborative, whole school approaches to capacity building in First Nations, Métis and Inuit education;
(c) using the programs of study to provide opportunities for all students to develop a knowledge and understanding of, and respect for, the histories, cultures, languages, contributions, perspectives, experiences and contemporary contexts of First Nations, Métis and Inuit; and
(d) supporting the learning experiences of all students by using resources that accurately reflect and demonstrate the strength and diversity of First Nations, Métis and Inuit. 
Our approach to professional learning is to build staff capacity in understanding and applying foundational knowledge about our First Nations, Métis, and Inuit communities by weaving such concepts (treaties and agreements; legislative histories and current legislative commitments; residential schooling and related legacies) through story-focused pedagogies and practices, which are foundational to Indigenous ways of knowing (Brokenleg, 2019)—  
Bring life to stories that were legislatively erased, intentionally lost, and learn, one story at a time, who we are, how we came to be, and where we need to go to repair intergenerational trauma. When I say 'we', I mean 'the individual' and that is the only way to begin the journey of 'truth' and 'reconciliation. (Brokenleg, 2019). 
Through a focus on sharing our stories of local community members who can amplify meaning by offering their stories of faith, hope, and resilience, we intend to weave such learning into the fabric of professional learning of all learning communities in our division:
First Nations, Métis, and Inuit Advisory Committee
Chaplains
Learning Support Facilitators
Early Learning Educators
Pedagogy Teams (Division 1, 2, 3, 4)
School and District Administrators (Christ-Centred Learning Community - CCLC)