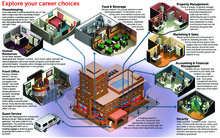 Hospitality, Tourism, and Management Certificate. This is a two-year course that is offered at École Secondaire Sainte Marguerite d'Youville that introduces students to all aspects of careers in the hospitality and service, hotel, and tourism industries. This includes: Property Management, Marketing & Sales, Front Office, Human Resources, Accounting & Financial Management, Housekeeping, Food & Beverage, Guest Services, etc.
Pre-requisite: none.
Credits earned: High school (10 credits) and Post-secondary (3 transfer credits) for Norquest.

Administrative Professional Program. NEW for Sept. 2018 The Administrative Professional Program Certificate at Morinville Community High School is a dual credit pathway that equips students with the skills and knowledge to become an effective office professional. Students will learn essential office skills such as basic accounting, office management, organizational politics, software applications, business communication, and event management. Students complete classroom and then move on to one-month full-time work experience and earn a total of 36 credits in 10 months. The course will be offered Monday through Thursday in the afternoon. The instructor is someone who is well-known to our community and dedicated to ensuring student success. Our Work Experience Coordinator will ensure that students find work placement that fulfills the program requirements and matches their interests and skills.
The advantages to completing this program are:
• Certification: Earning a certificate that is well-recognized in various companies for securing office jobs such as executive assistant, office management, business communications support, and events planning.

• Work Potential: Developing these skills (word processing composition, financial management, presentation design, business writing skills) and competencies (critical thinking, creative thinking, organizing and time management, public speaking, digital communication) will strengthen any student's work portfolio and chances for securing employment at any level.
Pre-requisites: It is recommended that you have taken English 20-1 or 20-2 and Math 10C. It is also recommended that you type 25 wpm. For successful completion of this program, you need to successfully complete English 30-1 or 30-2, and Math 10C or Math 20-3 or equivalent.