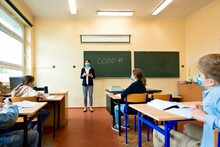 All of us at Greater St. Albert Catholic Schools (GSACRD) look forward to the upcoming school year, and we are excited to welcome students back to class this fall.

The health and safety of everyone in our faith and learning community remain our top priority and is incorporated into all of our decisions, protocols, and actions, in order to meet Alberta Health Services' guidelines.



Working with our community, we have developed a comprehensive school re-entry plan that includes multiple safety protocols in all of our schools, as well as our Division office, to reduce the risk of COVID-19 and to help keep our students, staff, and communities safe.
The following health measures will be in place for our schools:
Anyone coming to the school will be expected to do the daily prescribed

COVID-19 

Information Screening Questionnaire (PDF) (available in multiple languages); parents/legal guardians are expected to complete this daily checklist with their children before they come to school each day. If students show any signs of illness, they are not to come to school, unless the signs are established as part of a pre-existing health condition.
Strict stay-at-home protocols are in place for those who are feeling unwell.
Enhanced cleaning and disinfecting in schools and on buses are in place.
Encouraging physical distancing, where possible, is a focus.
Creating cohorts of students will be implemented as much as possible.
Mandatory masks for students from grade 4–12 and for all staff in settings where physical distancing cannot be maintained, as outlined in provincial guidelines, is required.
Asking students who are physically, psychologically, or developmentally able to wear a mask, to do so.
Recognizing that individuals who under any protected grounds of the Alberta Human Rights Act may be excused from this health protocol.
Following prescribed hand hygiene requirements for students and staff is required.
These strategies and protocols align with the recommendations of Alberta's Chief Medical Officer of Health and the Alberta government's School Re-Entry Plan.
> > > RELATED: Alberta government's K-12 School Re-Entry 

The provincial plan offers guidance on a wide range of operational issues and is informed by both Alberta's Relaunch Strategy and expert advice from the province's Chief Medical Officer of Health.


Near-normal operations
Schools across Alberta will return to near-normal operations (in-school instruction, with health and safety measures in place) at the beginning of the 2020-2021 school year. Premier Jason Kenney and The Hon. Adriana LaGrange, Minister of Education, made the announcement on July 21, 2020.
This decision is one of 3 scenarios that the provincial government considered in its school re-entry plan:
In-school classes resume (near normal with health measures)
In-school classes partially resume (with additional health measures)
At-home learning continues (in-school classes are suspended/canceled)
Deciding which scenario to enact is a government decision - not a school board or division decision. While we expected this outcome, our division – and our schools – have been planning for all 3 scenarios so that we would be prepared for whatever scenario the province mandated.
Furthermore, like all school jurisdictions in Alberta, our Division may be directed to switch between scenarios, depending on what happens with COVID-19. Thus, our school re-entry plan allows us to transition between scenarios, if/as required.
On August 4, 2020, the province announced additional health measures, and we have adapted our School Re-Entry Plan to follow these protocols.

As the COVID-19 situation continually evolves, we will be responsive and flexible as the year progresses. That means that our plan, and related practices in our schools, may also evolve.
We will continue to keep you informed about new developments as they happen. Our websites will be updated regularly, as will our social media platforms. Additionally, relevant information will be shared with students, parents/legal guardians, and staff through our Superintendent's weekly communication.
> > > DOWNLOAD: Parent Guidebook for School Re-Entry: 2020-2021 - Updated Nov. 20, 2020 (PDF)