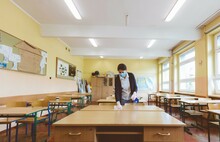 Safety depends on us working together as partners. Multiple strategies will keep everyone safe.
We have worked with the ministry and with our partner jurisdictions to ensure similar approaches to implementing multiple health measures to keep everyone safe. These protocols are intended to reduce the risk of COVID-19.
Also, in the newly revised (updated Aug. 27, 2020) Government of Alberta School Re-entry Plan 2020-2021, the province will continue to monitor and share information about COVD-19 cases in Alberta. The government has developed a COVID-19 Status Map that shows the level of risk in regions and information about local health measures. It also shows the rate of COVID-19 cases and the number of active cases. Confirmed cases will be monitored in real-time to inform proactive responses in localized areas of the province. Municipalities, counties, and municipal districts with active cases over 50 per 100,000 population may have additional measures to reduce the spread of COVID-19. This resource will help inform school re-entry and subsequent school operations.
On Aug. 26, 2020, Prime Minister Trudeau announced $2B in federal funding to be provided to provinces to fund pandemic-related direct expenses such as online education, cleaning, and personal protective equipment. On Sept. 2, 2020, Alberta's Minister of Education, announced how this federal funding would be distributed; our Division will receive $1,980,300 to address our increased costs related to school re-entry. Additionally, on Aug. 31, 2020, Alberta's Chief Medical Officer of Health mandated CMOH-order 33-2020, which articulated mask use guidelines for schools.  Details are included in this section. Further to this health order, on Sept. 3, 2020, the Chief Medical Officer of Health published a letter that was sent to all school jurisdictions on Sept. 8, 2020, and, that was then, through our superintendent, circulated to all of our families.
PROTOCOLS
Cleaning
Our Division worked throughout the summer to prepare for schools re-opening. Air-handling units and coils have been pressure washed and pleated air filters have been installed. We are attentive to ventilation practices suggested by Alberta Health such as encouraging proper ventilation using open doors and windows, holding classes outside, and holding classes in larger spaces with greater air volume and airflow.
Approved cleaning protocols have been put in place in all Division buildings. Custodial staff have been trained to identify high touch areas and to know how to clean, sanitize, and disinfect them. Soft furnishings that cannot be easily cleaned have been removed from classrooms and common areas. More frequent cleaning protocols have been put in place concerning washrooms, high traffic areas, and common areas. All schools have approved cleaning supplies as well as microfiber cloths that are sent to be laundered on behalf of staff. Staff will work with school principals to identify high-touch surfaces within classrooms and will be trained to wipe them down effectively throughout the day.

Screening
Before coming to school each day, all staff and students must complete the Alberta government's COVID-19 Information Screening Questionnaire, which is available in multiple languages, to determine whether they can attend or must stay home. Students who have any symptoms noted on the questionnaire cannot attend school. The form does not need to be submitted to the office. If your child has any symptoms, contact your school office to let your child's school know. Everyone who enters a school will see a sign that reminds them to complete the daily COVID-19 Information Screening Questionnaire before entering the building.

Illness: What Happens at School
On Sept. 3, 2020, Alberta Health Services released a summary guideline for when students become ill at school.
If your child becomes ill during the day, he/she will be brought to a designated area in or near the office for both the child's and others' safety.
Your child will be informed about the process to minimize any psychological impact:
When a child becomes ill at school, a staff member will help him/her and wear the necessary personal protective equipment (mask and any other required safety items [face shield, gloves, gown], if necessary.
The child will have a temperature check with a contactless thermometer and parents/legal guardians will be informed as to whether he/she has a fever.
The child will review which symptom or symptoms he/she is having based on the guidance for school re-entry screening questionnaire.
If a child is sick, parents or legal guardians will be contacted to pick up the child immediately. You need to provide the school with your current contact information and updated emergency contacts to help us to keep your child safe.
When students become ill in school, the protocol is for the school principal to be in contact with Division Office staff, when necessary, to support seeking advice from our Alberta Health Services' contacts. Parents/legal guardians in the broader community will only be notified when the risk warrants notification. This determination is made with Alberta Health Services' consultation. 
Alberta Health Services' website is updated regularly. Currently, guidelines for what to do next are as follows:
AHS advises that you should get tested if you have any COVID-19 symptoms. Go online to book an appointment for a COVID-19 test.


If you have any of these symptoms you are legally required to isolate for at least 10 days, from the start of your symptoms or until they resolve, whichever is longer:

      > fever
      > cough (new cough or worsening chronic cough)
      > shortness of breath or difficulty breathing (new or worsening)
      > runny nose
      > sore throat


If you have any of these other symptoms, stay home, and minimize your contact with others until your symptoms resolve:
              > chills
              > painful swallowing
              > stuffy nose
              > headache
              > muscle or joint aches
              > feeling unwell, fatigue, or severe exhaustion
              > gastrointestinal symptoms (nausea, vomiting, diarrhea, or unexplained loss of
                 appetite)
              > loss of sense of smell or taste
              > conjunctivitis, commonly known as pink eye
Students with pre-existing health conditions that cause symptoms of illness should be tested for COVID-19 at least once. A negative test will help show that symptoms are related to their pre-existing conditions and not to COVID-19. This will establish what their baseline for being healthy looks like. Families should notify their school about any pre-existing condition and the symptoms it causes. As long as these symptoms remain the same, the student can attend school.


If symptoms change or worsen, the student will need to leave the school, follow illness protocols, and have another COVID-19 test to determine if the symptoms are still related to the pre-existing medical condition. If the test is negative, the student may return to school. Families can learn more about COVID-19 testing and book a test online through Alberta Health Services.


Illness at School: Parents' Next Steps
Alberta Health Services' website provides information on the following steps:
Take the COVID-19 Self-assessment: Go online to take the COVID-19 Self-assessment.
Book a COVID-19 test: AHS advises that you should get tested if you have any COVID-19 symptoms. Book an appointment online.
Parents should follow AHS' isolation guidelines.
Monitor your health, and call Health Link 811 if you have questions or concerns. Call 911 immediately if you are experiencing severe symptoms of COVID-19, including difficulty breathing, severe chest pain, feelings of confusion, or loss of consciousness.
Isolation Protocols
If your child is ill or has been in contact with someone who has symptoms of or has tested positive for COVID-19, then you should follow the isolation guidelines. A quick review of isolation protocols when you or your child is tested for COVID-19 is provided below:
Symptoms
COVID-19 Test Result
Management of Individual
Management of Individual's Close Contacts*
Symptomatic
Positive
Isolate for a minimum 10 days or until symptoms resolve, whichever is longer.
Quarantine for 14 days from last exposure.
 
Negative

Stay home until symptoms resolve.

Except if identified as a close contact of a confirmed case:

quarantine for 14 days since the last exposure (even with a negative result).

N/A
Asymptomatic
Positive
Isolate for a minimum of 10 days from the collection date of the swab.
Quarantine from 14 days from last exposure.
 
Negative

No isolation required.

Except if identified as a close contact of a confirmed case:

quarantine for 14 days since the last exposure (even with a negative result).

N/A
NOTES:
Individuals WILL NOT receive written or email documentation of their results. Those who wish to access their results directly should sign up for My Health Records.
There is not a requirement to provide evidence of negative results before returning to school.
AHS Public Health will contact all confirmed cases and their close contacts and provide them clear direction.
AHS Public Health will notify the school of a positive case.
Individuals with COVID-19 symptoms are encouraged to be tested using the AHS Online Self-Assessment tool
Hand Hygiene
Staff and students will learn about and implement Alberta Health Services' hand hygiene practices. Everyone who enters a school will use hand sanitizer or wash their hands immediately. Students and staff will be required to wash and/or sanitize their hands throughout the day, including every time that they enter or exit the school/classroom, before and after using shared equipment, and before and after eating. Schools will provide hand sanitizer throughout the building to support these requirements. It is also encouraged that parents/legal guardians send their children to school with personal hand sanitizer. Schools will also promote proper hand hygiene and respiratory etiquette with verbal reminders and posters throughout the school. Parents can help their children practice these hand hygiene practices at home before returning to school.
Cohorts
A cohort is defined as a group of students and staff who remain together. The size of the cohort will depend on the size of the classroom and the number of students assigned to the teacher. Every effort will be made to keep the same students and staff together and limit contact between cohorts within the school. Strategies such as staggering breaks and limiting gatherings will lessen the chances of an outbreak and ease contact tracing. While schools cannot control what happens outside of school hours, cohorts or other control measures within a school will still help lessen the risk of COVID-19 transmission as per the Alberta Government's Implementing School Re-entry Guidelines.

Physical Distancing


Physical distancing is one health measure to reduce the risk of transmitting COVID-19. At times, students and staff will be sitting, walking, talking, or doing activities that require them to be closer than two metres, so varied strategies will be put in place to promote physical distancing throughout their buildings, where possible, including in classrooms, hallways, washrooms, and common areas.
Strategies include but are not limited to:
removing excess furniture in classrooms to make more space to spread student desks and tables farther apart;
removing or rearranging seating in common areas to prevent students from gathering;
staggering the start/end/break times for classes to prevent crowded hallways;
posting signs and using floor markers to control the flow of foot traffic and support physical distancing; and
using plexiglass shields.
It is important to note that students are not expected to sit at their desks for the day, as learning can occur during various activities. Additional measures, such as the following, will be implemented when students are not seated in the classroom:
considering activities that take place outdoors or in areas that allow for increased physical distancing and/or increased ventilation;
considering how to limit the number of students moving within the classroom or throughout the school at one time to promote physical distancing; and
wearing masks when engaging in activities where physical distancing of at least two metres cannot be maintained.
Personal Protective Equipment (PPE)
Personal Protective Equipment (PPE) such as masks, face shields, gloves, and gowns are provided to staff who work with students in classrooms, in Division programs such as our RISE program and our Sports Academies, or who come into contact with students or staff who are ill.  All Division staff will be provided with two reusable masks and a face shield to support a safer return to school. Face shields do not replace masks; masks are still required for staff who are wearing face shields.

Masks
On Sept. 2, 2020, Alberta's Chief Medical Officer of Health confirmed that masks are part of our "new normal" and will require ongoing learning about multiple measures to reduce the risk of transmission of COVID-19. She shared interpretations of her newly released (Aug. 31, 2020) CMOH-order 33-2020, which articulated mask use guidelines for schools. In that order, Dr. Hinshaw confirmed the following guidelines:
All students attending grades 4 through 12, staff members and visitors must wear a non-­medical face mask that covers their mouth and nose while attending an indoor location within a school, unless the student, staff member, or visitor:
is unable to place, use or remove a non-medical face mask without assistance;
is unable to wear a non-medical face mask due to a mental or physical
concern or limitation;
is consuming food or drink in a designated area;
is engaging in physical exercise;
is seated at a desk or table;
within a classroom or place where the instruction, course, or program of study is taking place, and
where the desks, tables, and chairs are arranged in a manner

(i) to prevent persons who are seated from facing each other and
(ii) to allow the greatest possible distance between seated persons;
(iii) is providing or receiving care or assistance where a non-medical face mask would hinder that caregiving or assistance; or
(iv) is separated from every other person by a physical barrier.
Originally, we shared that masks are an important way to mitigate the risk of spreading COVID-19, particularly when people are indoors and physical distancing of two metres or more is not possible. Alberta's Minister of Education and Chief Medical Officer of Health have mandated that all staff and all grades 4-12 students wear a mask when physical distancing at school is not possible. It is recommended that K–3 students wear masks, although this is not a requirement in schools at this time. Masks are required for all students on buses, as buses are an environment in which students from multiple cohorts come together and social distancing is difficult to maintain. Individuals who are physically, psychologically, or developmentally unable to wear a mask or who are protected by the Alberta Human Rights Act may be excused from wearing a mask.
Proper mask use will be taught and promoted, and it is our collective responsibility to adhere to mask protocols. Masks will be provided to students. That said, we encourage parents/legal guardians to send their children to school with a mask and to practice proper mask protocols before coming to school. Emergency supplies of masks, face shields, gloves, gowns will be kept at the school office.
Signs and arrows
Schools will use information on posters and on the floor (arrows/foot markers) to help students to maintain physical distancing within the school and to know which way to walk through the hallways.
Laminated signs will be displayed throughout the school as reminders to:


Lockers, Coat Hooks, and School Supplies
In the earlier versions of these guidelines, we recommended limiting students' access to lockers and coat hooks due to distancing protocols and gathering restrictions. Newly revised guidelines from the Alberta Government envisage the potential of using coat hooks and lockers only when measures are in place to minimize crowding:
spacing lockers/coat hooks out when possible and
assigning lockers/coat hooks based on cohort/grade/class.
Because as we start school, it is difficult to ensure that crowding is easily minimized, school principals have worked with staff to have students bring what they need for the day and keep school supplies and textbooks in their backpacks or in storage solutions proposed by classroom teachers to minimize locker visits or the need to go to cubbies and coat hooks.
We continue to support teachers to direct the best way to store items, and, in consultation with the school principals, this guideline may change as health guidelines evolve or as protocols are developed to ensure that health measures can be met by accessing lockers and coat hooks.
Students' personal supplies will be stored separately. Teachers will plan learning activities to reduce or minimize the need to share equipment, textbooks, or materials. If items are shared, they must be cleaned and disinfected after use. Students will wash or sanitize their hands both before and after using the shared items.


Washrooms and Common Areas
Washrooms will be cleaned and disinfected throughout the day. There will be a maximum number of students permitted in the washroom at one time. Depending on the size of the school and the location of washrooms, schools may assign students to specific washrooms. Areas such as libraries and gymnasiums may be used as classrooms and this will be determined by the school principal. Gatherings will be discouraged in all common areas, and limitations placed on resource sharing to ensure that all health guidelines can be met.

Playgrounds
Schools will not assign staff to supervise playground equipment before and after school. To support safety, this equipment will be off-limits to students. Parents/legal guardians who wish to take children to the playground at other times of the day are encouraged to follow the province's Guidance for Playgrounds to use the equipment as safely as possible. School principals will review the guidance for playground use and decide whether to permit playground access during school hours.