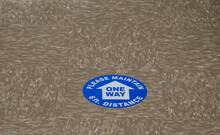 Communication from the Division
You will continue to receive weekly updates through the Superintendent about school start-up in August and early September. These weekly updates are designed to provide more details about programming, and the Parent Guidebook will be revised as necessary to further address questions arising from families. Regular updates are posted on the Division's website, our schools' websites, and our official social media platforms (Facebook, Twitter, and Instagram).
Communication from the School
Throughout the school year, you will receive a message from your school principal about orientations, classes, and any other important programming requirements at the school level. If there is a positive case of COVID-19 in your child's school, your school principal will work directly with Alberta Health Services and with Division Office staff using the most current COVID-19 in school settings to communicate with "close contacts." In a school setting, close contacts are individuals that:
provide direct care for an individual with COVID-19 or who had similar close physical contact, OR
had close prolonged contact (i.e., for more than 15 minutes cumulative and within 2 metres) with a case, OR
had direct contact with infectious body fluids of an individual with COVID-19 (i.e., was coughed or sneezed on).
The school principals will also provide notification to all staff and parents/legal guardians to inform the community about what is happening and next steps as soon as permitted by Alberta Health Services.
Daily Routines
Getting to School on the Bus
Before coming to school each day, all staff and students must complete Alberta's Daily Checklist, which is available in multiple languages, to determine whether they can attend or must stay home. Students with COVID-19 symptoms or experiencing illness will not be permitted on the bus.
Because physical distancing is not possible on a bus, to help keep students and staff as safe as possible, the following protocols will be followed:
Students in Grades K–12 who are physically, psychologically, or developmentally able to wear a mask will be required to do so.
Students will practice physical distancing while at the bus stop and will line up 2-metres apart.
Students will be assigned seats using a seating plan that limits close contact with others when possible.
Students will sit with members of the same household when possible.
Students will be taught and reminded of how to respect physical distancing.
There will be a protective zone between the driver and student passengers, with no person seated in the seat directly behind the bus driver.
The bus will be cleaned according to COVID-19 cleaning standards.
High-contact areas will be cleaned throughout the day.
 A deep clean of buses will be completed daily.
Arriving at School
All students will have an assigned door to use every time they enter and exit their school. When students arrive at school, they will:
go to the area outside their assigned door;
follow physical distancing guidelines to stay at least two meters apart while they wait outside;
follow physical distancing guidelines to line up when it is time to enter the school; and
wait for staff to bring them into the school.
School staff will be outside to remind students of these requirements, and to help students line up and keep an appropriate distance from each other. Many schools will develop staggered entry schedules to limit how many students enter the school at once. This schedule may be slightly different from the regular bell schedule.
During extreme weather, such as severe cold or rain, schools will have a plan in place so students can enter the school early. Adults bringing students to school will be asked to stay in their vehicle or outside the school, and to maintain a safe physical distance between themselves and others. Those who need to enter the school must book an appointment with the school office. Individuals without an appointment will not be able to enter the school.
Signs and Arrows 
Schools will use information on posters and on the floor (arrows/foot markers) to help students to maintain physical distancing within the school and to know which way to walk through the hallways.
Laminated signs will be displayed throughout the school as reminders to:
Lockers, Coat Hooks, and School Supplies
In the earlier versions of these guidelines, we recommended limiting students' access to lockers and coat hooks due to distancing protocols and gathering restrictions. Newly revised guidelines from the Alberta Government envisage the potential of using coat hooks and lockers only when measures are in place to minimize crowding:
Spacing lockers/coat hooks out when possible.
Assigning lockers/coat hooks based on cohort/grade/class.
As we began school, it was difficult to ensure that crowding was easily minimized, so school principals have worked with staff to have students bring what they need for the day and keep school supplies and textbooks in their backpacks or in storage solutions proposed by classroom teachers to minimize locker visits or the need to go to cubbies and coat hooks. As we continue to live our health measures, some school principals were able to use their coat hooks and lockers by adhering to health guidelines for maintaining physical distances of 2 meters or more, mitigating risks by also wearing masks and sanitizing, and by controlling the number of students in the hallway at one time. We continue to support teachers to direct the best way to store items, in consultation with the school principal. 
Students will have their own personal supplies to use that are stored separately. Teachers will plan learning activities to reduce or minimize the need to share equipment, textbooks or materials. If items are shared, they must be cleaned and disinfected after use. Students will wash or sanitize their hands both before and after using the shared items.
On January 20, 2021, it was reinforced that items that cannot be cleaned or disinfected can be stored in a sealed container for 24 hours.  If handling paper tests and assignments, ensure good hand hygiene before and after touching the paper and avoid touching the face prior to performing hand hygiene. Out of an abundance of caution, paper tests and assignments can be stored for 24 hours prior to handling. Hard covers of books can be cleaned and disinfected between uses if it does not ruin the books.
Washrooms and Common Areas
Washrooms will be cleaned and disinfected throughout the day. There will be a maximum number of students permitted in the washroom at one time. Depending on the size of the school and the location of washrooms, schools may assign students to specific washrooms. Areas such as libraries and gymnasiums may be used as classrooms and this will be determined by the school principal. Gatherings will be discouraged in all common areas, and limitations placed on resource sharing to ensure that all health guidelines can be met.
Open/Closed Campus
Junior high and high schools will work with their school community to decide if students will be allowed to leave campus during lunch breaks. If students are permitted to leave the school building, they must:
Exit through their assigned door.
Respect physical distancing and all other COVID-19 health protocols when off campus.
Assess whether they have any symptoms of illness before they re-enter the school - students with newly developed symptoms will not be permitted to return to school.
Re-enter the school through their assigned door.
Additionally, high schools will need to determine if students may leave campus and return to the school building during a spare period. Schools will also need to identify a space or spaces in the school where students on spares can be accommodated while physical distancing.
Playgrounds
With this in mind, schools will not be assigning staff to supervise playground equipment before and after school. To support safety, this equipment will be off-limits to students during this time. Parents/legal guardians who wish to take children to the playground at other times of the day are encouraged to follow the province's Guidance for Playgrounds to use the equipment as safely as possible. School principals will review the guidance for playground use and decide whether to permit playground access during school hours.
Pre-Kindergarten and Kindergarten
Early childhood education is following many of the suggestions provided by the Government of Alberta's Guidance for Daycare and Out-of-School Care. Like all classrooms, Pre-K and K classes focus on creating cohorts (a group of children and staff members assigned to them who stay together throughout the day). Multiple safety measures for young children will be in place, such as hand hygiene, cohorting and sub-cohorting, and physical distancing, as well as PPE, will be available to school personnel, such as a therapist, who is not part of the cohort.
In addition, extra attention is paid to limiting interactions while waiting for parents at pick-up times and while students are waiting to enter school at drop-off times. These smaller groupings/sub-cohorts also spend time together at mealtimes, playtimes, and outdoor activities.
Pre-Kindergarten – Grade 9 Classes
In Pre-K-9, Pre-K-5, Pre-K-6, 5-8, and 7-9 schools, students will stay with their classroom as a cohort and teachers will travel to classrooms as much as reasonably possible. Core (English/French Language Arts, Math, Science, Social, Religion, Physical Education, and Health), and option courses will be offered by following Alberta Health guidelines.
On November 24, 2020, with continued temporary enhanced restrictions on how we offer music, singing, dancing, and performing arts, we will adhere to such guidelines in our selection of options. Given gathering restrictions, we will not be having concerts that are face-to-face, but we will look for virtual alternatives. We will modify programming to ensure that we continue to limit equipment sharing to cohorts, and to have fewer teachers offering courses, which will limit options and/or flexibility to take options of choice.
Grades 10, 11, and 12 Classes
In high schools, we will implement a quarterly schedule for all courses. This means that students will take core and option classes in a compressed schedule of Sept. - Nov., Nov. - Jan., Jan. - April, or April - June. The reason for this scheduling is to have students take part in fewer classes to maintain smaller cohorts. This will also maintain minimal disruption to writing diplomas and completing high school programming if schools are required to switch between scenarios one, two, and/or three.    
Provincial Exams
Grade 3 Student Learning Assessments will be optional. Grades 6 and 9 Provincial Achievement Tests will not be administered. Diploma Exams are now a choice for quarter one as per the Minister of Education's public announcement. All diploma exams will be offered every quarter. On October 13, The Hon. Adrianna LaGrange, Minister of Education, announced that she had made the decision to allow students and parents to choose whether or not to write diploma exams for November. Through Colin Aitchinson, the Minister's press secretary, the reason provided was: "We know these are challenging times, and that's why we want to ensure students and their parents have the flexibility to make the best decision for their own situation this exam season."
Our Division supports this decision and is working with students and parents/legal guardians to assist in individual student choices about whether or not to write diploma exams for particular courses. If you have questions about whether your child should write diploma exams, please contact your child's teachers and/or school principal for guidance.
Diploma schedules will be communicated by your school. All diploma exams will be offered every quarter. Diploma exams are optional for the rest of the school year. Students and families can choose to write an exam or receive an exemption for the January, April, June, and August 2021 exams.
Respectful Inclusive Supported Education (RISE) Anchor Programs (Jr./Sr. High Schools) and Inclusive Education
To support children and students in attaining the goals as stated in the Ministerial Order on Student Learning, school authorities must ensure that all children and students (Kindergarten to Grade 12), regardless of race, religious belief, colour, gender, gender identity, gender expression, physical disability, mental disability, family status, sexual orientation, or any other factor(s), have access to meaningful and relevant learning experiences that include appropriate instructional supports.
Our RISE program students learn together in an inclusive context in which they will come to school as a cohort (the same students with the same staff) every day. Students will continue to take part in classes face-to-face unless those students choose online education. Students will access resources virtually (e.g., Google Classroom) to ensure that they have the necessary medical care, when needed, and targeted and individualized support to meet their personalized educational goals. Staff who work with RISE students closer than 2 metres will be provided with masks, face shields, gloves, and gowns, to be used according to provincial guidelines.
For students who have diverse learning needs, returning to school can cause additional concern or anxiety. We are taking steps to support students, which include:
working with Alberta Health Services on COVID-19 safety protocols for some of the complex medical interventions and supports that some students require, to keep both students and staff as safe as possible.
applying COVID-19-specific strategies to Individual Program Plans (IPPs), Individual Care Plans or Individual Student Behaviour Plans.
addressing effective learning strategies for online learning in IPPs.
Students' academic, social, emotional, behavioral specialized supports and services were assessed when making decisions about supporting all students in face-to-face and online programming. Phone calls were made to families who may have selected online programming and who needed access to specialized services and supports. If you have questions about inclusive programming and supports and services, please contact your school principal and/or the Division's Director of Early Education and Learning Support Services at 780-459-7711.
More information about how we're supporting students with diverse learning needs during COVID-19 will be available in school and division communications, including the Parent Guidebook, as we move forward. School principals and Division staff will work with families who have specific questions about school re-entry.
IB and AP Exams
IB and AP exams will continue to be administered in May 2021. IB and AP courses will be offered according to when it is possible based on school staffing and scheduling requirements. Some considerations may be off-schedule times (lunch, after class). Teachers who teach an AP or IB course will have certain courses scheduled in certain quarters that each school will communicate to AP and IB students. Teachers will follow up off-schedule to work with students to be prepared for exams in May. 
St. Gabriel Education Centre
At the regular Board Meeting on August 31, 2020, our board resolved to rebrand what was St. Gabriel Catholic High School to St. Gabriel Education Centre, which coordinates our newly established K-9 online learning pathway. At this centre, high school students who may need greater flexibility than a quarterly schedule provides, will choose to take their courses in quarters, semesters, or as a full-year program, based on conversations with teachers and the school principal, Renee Trottier. Students will have access to diploma exams every quarter.
Physical Education, Extracurricular Activities, and Athletics
Schools will continue to provide physical education instruction, and we will provide guidance as far as privileging outdoor activities and individual activities indoors as recently emphasized in the Targeted Public Health Measures released on November 12, 2020. Earlier, Alberta Health Services had reviewed our approach to keeping students in subgroups within our classes and using equipment with attention to all cleaning, disinfecting, and sanitizing protocols.
Schools will limit extracurricular activities at this time. Extracurricular activities and athletics will comply with all guidance from AHS and the Alberta Schools' Athletic Association (ASAA), as applicable.  On January 20, 2021, Alberta Health Services' guidelines for schools emphasized:

Schools should consider limiting the total potential number of cohort groups that a student may be permitted to be part of in the school setting (e.g., limit school-based extracurricular activities and clubs). Cohorts only need to be formed if 2 metres of distancing can not be maintained. For example, a cross country running group that could always keep 2 metres apart while training would not be considered a cohort.
Regarding athletics, on October 28, 2020, our school division collaboratively posted a media release to postpone athletics, and on January 8, 2021, we updated it:


Announcement: School Athletics Postponed

To protect the health and safety of our students and staff, Conseil scolaire Centre-Nord, Greater St. Albert Catholic Schools, St. Albert Public Schools and Sturgeon Public Schools have made the joint decision to continue to postpone all school-based extracurricular junior and senior high athletics in St. Albert and area until further notice.

This decision was not made lightly and is a result of the continuing increase in COVID-19 cases in our communities. We know how important athletics are to many of our students, and we hope to be able to provide our student-athletes with the opportunity to participate and compete later this school year. We will monitor the situation in the upcoming months to determine if it is safe to resume athletics based on health guidance from the provincial government.
On November 12, 2020, with an increase in cases of COVID-19 in the Edmonton area, a temporary stop to all group fitness, team sports, group performance activities in the community has resulted in limited use of facilities such as rinks and arenas fror Nov.13 to Nov. 17. Our local facilities have communicated:
In response to the November 12 update from the Province, the following activities in City recreation facilities will be canceled from November 13 – 27 inclusive:
All arena and fieldhouse and gymnasium activities.
Bookings for group/team cohort physical activities including dryland training.
Registered or drop-in recreation, fitness and aquatics programs, including personal training.
These restrictions do not apply to outdoor recreation. We encourage you to look to outdoor activities to remain active during this time.
On January 28, 2021, school divisions received the following message from Premier Kenney:
Benchmark to ease restrictions: 600 hospitalizations and declining
Indoor and outdoor children's sport and performance
Children's sport and performance activities are permitted if they are related to school activities, such as physical education classes.
This will allow K-12 schools and post-secondary institutions to use off-site facilities to support curriculum-related educational activities.
Mandatory restrictions - Provincewide - Effective February 8
Group or team sports not permitted. No sports games, competitions, team practice, league play or group exercise of any kind is allowed.
One-on-one training is permitted


Only one-on-one or one-on-one household training is permitted for indoor fitness activities (e.g. fitness in dance studios, training figure skating on ice, one-on-one lessons).
Sessions have to be scheduled or by appointment. No drop-in or groups allowed.
Safety requirements:
One-on-one sessions cannot interact with others and there must be a minimum of 3 metres distance between sessions in the same facility.
Trainers must be professional, certified and/or paid trainers who are providing active instruction and correction. Passive supervision of a physical activity is not considered training.
Trainers should remain masked during the session; clients are not required to wear a mask while exercising.
More than one trainer and client 'pair' are allowed into the facility, studio, rink, court, pool, ice surface, etc. so long as:

Each trainer and client stays 3 metres away from all other trainers and clients at all times, including in entryways and exits.
Each trainer can only interact with their assigned client, and each client can only interact with their assigned trainer.
No interaction between clients or between trainers is allowed.
No 'cycling through' multiple trainers as in circuit training.
Many of you will have heard Premier Kenney's announcement on January 28, 2021 that was further detailed by Dr. Deena Hinshaw on Saturday, February 6, 2021:
Indoor and outdoor children's sport and performance: K-12 schools and post-secondary children's sport and performance activities, such as physical education classes, can now use off-site facilities to support curriculum-related educational activities.
Further to such messages, Deputy Minister Tremblay provided guidance to interpret this with respect to school programming.
Based on all of this information, our school division has collaborated with surrounding jurisdictions, and we will be taking a stepped approach to implementing these new parameters:
Extra-curricular athletics: Being non-curricular in nature, and therefore not central to our mandate of providing education, all extra-curricular activities are to remain on hold for the month of February, at least. This means no practicing, training or activity, whether grouped 10 or less, or individual, whatsoever. On April 6, 2021, Premier Kenney announced a need to step back and to follow measures as already set in schools. Given the rise in cases, including variant cases, we will sustain our current health measures.
Physical Education and Academy Instruction: Being curricular in nature, these opportunities will continue in already established cohorts in activities outside the footprint of the school with the following conditions:
Where possible, walking distance to facility/venue is preferred.
Only venues/facilities currently allowed by Provincial mandate may be accessed.
We continue to work with our municipalities and we will access recreational facilities as they are available. That process has yet to be clarified. More information will be provided as it is made available. Only activities deemed COVID-appropriate under current guidance may be undertaken.
All guidance for activities remains with respect to physical distancing, mask use, etc. for physical activity.
Performances: Music and drama students will continue to practice within the parameters already outlined. There will not be a focus on preparing for live performances with face-to-face audiences. At this time, we are assuming virtual audiences until such time that guidelines change.
Field trips: will only be permitted when necessary to carry out curricular outcomes that cannot otherwise be met through in school, in class activities.
Sports Academy
Schools continue programming in Scenario One (face-to-face education with health measures) to carry on with face-to-face education, including Physical Education and programming such as academies that meet Physical Education and Health Programs of Study outcomes. Jurisdictions provincially and locally continue to collaborate provincially to review modifications that meet Alberta Health Services, Ministry of Education, and Chief Medical Officer of Health guidelines. Therefore, if your child is registered in Hockey, Soccer, Gym/Cheer/Dance, or Recreation Academies, your child will be participating in modified programming that meets safety measures of the Chief Medical Officer's and Alberta Health's guidelines.

Given the relaxation of restrictions on February 8, 2021, we are looking forward to engaging in at school and offsite activities based on Premier Kenney's step one guidelines:

Indoor and outdoor children's sport and performance
Children's sport and performance activities are permitted if they are related to school activities, such as physical education classes.
This will allow K-12 schools and post-secondary institutions to use off-site facilities to support curriculum-related educational activities.
Academy students will continue modified activities at their schools, and we expect to hold some academy programming in community facilities starting February 16 -19, assuming such facilities are available. Highly specific guidelines have been created and the best person to discuss these activities and guidelines with is Geoff Giacobbo, Sports Academy Consultant. If you have an interest in registering in Sports/Recreation Academy, please contact Mr. Geoff Giacobbo, Sports Academy Consultant.
Music 
Food
Activities that involve the sharing of food between students was originally suspended and continues to be discouraged except for the following scenarios as defined in newly released food guidelines in Implementing School Re-entry Guidance, Additional Considerations:
Classes that teach food preparation may occur as long as students do not share the food they prepare with other students or staff. Sharing food between students can be allowed if masks were worn while preparing the food. There should be a designated server serving the food, appropriate hand hygiene, and physical distancing during both preparation and while eating.
Self-serve is not an option in the current guidelines except with individually packaged items.
Donated foods that arrive in bulk that are to be distributed through a self-serve option should be separated and packaged by staff/volunteers in an area that allows for all control measures and sanitary food preparation.
Any other food options should be distributed by staff to seated children in order to limit congregation of students and line ups.
There are no restrictions on parents providing food/treats for a classroom if there is a designated server serving the food and appropriate hand hygiene and physical distancing is followed while eating. Please follow the school policy for parent-provided food.

For lunches and snacks:
No Skip-the Dishes or food services (e.g., hot lunches) will be available in schools.
Food provided by the family should be stored with the student's belongings.
Students/children should practice physical distancing while eating.
There should be no common food items (e.g., salt and pepper shakers, ketchup).
If families forget to send lunch, you will need to contact the office to arrange to drop off the lunch as opposed to walking through the school to the student's classroom.

For schools with full cafeterias or programs that handle and prepare foods, they must follow the Guidance For Food Service and Sales:


Measures should be in place to encourage physical distancing;
Stagger lunch times;
Space out tables and chairs;
Use floor markings for flow and line ups;
Designate additional eating areas as needed (e.g., gyms, band rooms); and
Cohorts should be maintained during breaks.
Field trips
Field trips that require students to ride a bus are currently discouraged and only to be considered if a curricular outcome cannot be accomplished from school. If a field trip is considered, all health and safety measures must be in place, notably the same cohort only on the bus. The status of such field trips will be reviewed as provincial guidelines continue to evolve. All international, provincial, and local field trips that require travel are suspended but will be reviewed as chief medical officers of health adjust recommendations about traveling between provinces (learn more about Alberta's COVID-19 travel restrictions). Virtual field trips, in- class/classroom field trips and socially distanced community walking trips that follow COVID-19 health and safety protocols are permitted.
Assemblies and Special Events
Gatherings that bring multiple cohorts of students together are not permitted at this time. This includes such things as performances, book fairs, guest speakers, school dances, in-person meet-the-teacher events, and group fundraisers like bike-a-thons. Virtual assemblies may be held within the school community. This year's READ-IN Week event will be limited to school staff reading with students and virtual guest readers.
School Council Meetings
School council meetings for the 2020–2021 school year may go ahead as long as they meet Alberta Health restrictions for social gatherings as well as the safety protocols and expectations of the Chief Medical Officer and Division health guidelines. School principals will support their school council members to determine if they will hold in-person meetings and/or online virtual meetings. Any in-person meeting must adhere to COVID-19 health and safety protocols.
Libraries/Learning Commons
Schools will decide if they will use the learning commons or school library space as instructional space. Schools that decide to use this space for instruction must follow COVID-19 strategies that support physical distancing. These spaces will be cleaned and disinfected between each cohort of students. If the libraries/learning commons are used to share resources, a protocol will be reviewed to loan materials that will be in keeping with COVID-19 health measures. According to Library Guidelines, Public Health Inspectors reinforced that when books are taken out, they must be left for 72 hours before being loaned again.
Supporting Mental Health and Well-being
In our Division, we provide all students with access to school counsellors. Please contact your school principal if your child experiences signs of mental duress or requires proactive support to have a successful schooling experience. In addition, parents or guardians who are concerned for their child's well-being can reach out to these community resources:
Mental Health Helpline: 1-877-303-2642
This toll-free helpline provides confidential and anonymous services, crisis intervention, information about mental-health services and referrals to other agencies.
Kids Help Phone: 1-800-668-6868
- kidshelpphone.ca
- Text CONNECT to 686868
Health Link: 811
Alberta Health Services
- Help in Tough Times
- Healthy Together
The federal First Nations and Inuit Hope for Wellness Help Line, at 1-855-242-3310 and online chat (in English and French), is available 24 hours a day, seven days a week.

GSACRD Voice is our Mental Health Capacity Building Grant Initiative comprised of a Wellbeing Team that has created resources for students and parents, including virtual evenings to talk about research-proven strategies to be resilient and healthy. Please check out these resources.
Staggered Entry and Delayed Start
We have experienced a very successful school re-entry with staggered re-entry for K-9.  Face-to-Face students began classes on Aug. 31 (for students who had last names beginning (A-K) and on Sept. 1, 2020 (for students who had the last names beginning L-Z). Regular classes began on Sept. 2 for K-9 face-to-face students.
Delayed Start for K-9 Online Students:
Sept. 8, 2020: Online education classes for K-9 students began, which was a delayed start for these students.
Aug. 28- Sept. 4, 2020:
Online registrations have been confirmed with school principals.
Mr. Evan Holstein, acting school principal of GSACRD Online Pathway, can answer questions about K-9 online education.
Online teachers will contact parents to share details about school start-up (schedules, routines, and where and how to access materials).
Online students do not start school until Sept. 8, unless they are in high school.
Pre-Kindergarten programs

31 – Sept. 4, 2020: Pre-Kindergarten Family Orientation Meetings – The teacher will contact the family to set up a time.
8 – 9, 2020: Staggered entry
10, 2020: All children attend school