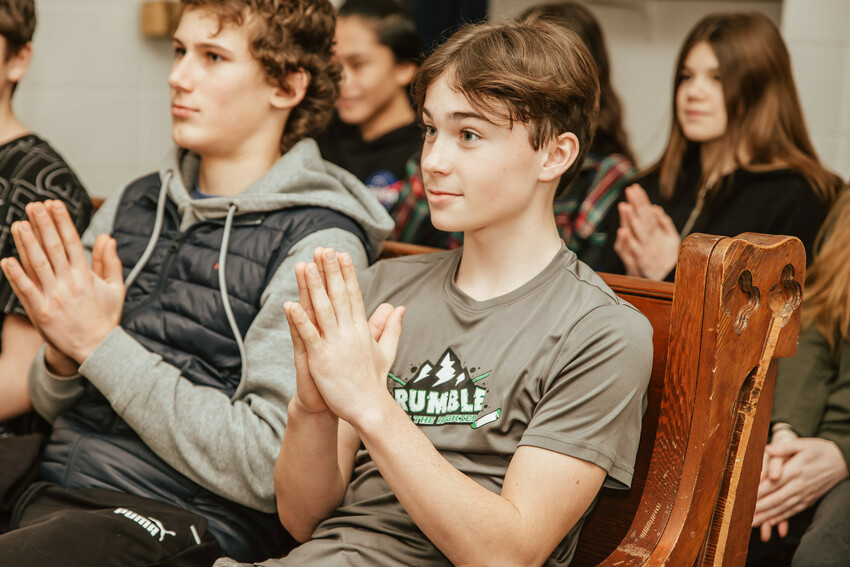 Arise: Get up, get going, and go with God!
As a Division, we have the privilege of helping students see themselves as Christ for others and as bearers and deliverers of His love and life-giving touch.
Greater St. Albert Catholic Schools' three-year faith theme for 2020-2022 is Arise: Get up, get going, and go with God!
This theme reflects the three-fold focus areas of the next three World Youth Day celebrations, as announced by Pope Francis in 2019.
The three themes are connected by their invitation for all to "Arise!" and to respond to God's voice through action. Each year's scripture provides some insight into the overall theme.
Year 1 – Get Up!
"…I say to you, arise!" (Luke 7:14)
Arise…rise up and out of the slumber of sadness, death, darkness, apathy, sin, etc.
Year 2 – Get Going!
"Arise! I have appointed you as a witness of what you have seen." (Acts 26:16)
Witness…our response to hearing Christ's voice is to "get going" and to respond through action, becoming Christ for others.
Year 3- Go with God!
"Mary arose and went with haste." (Luke 1:39)
Haste…the Good News of Jesus Christ inspires and ignites an excitement, and we are compelled to respond with immediacy, to "Go with God." Like Mary after the annunciation, or the disciples who ran to the empty tomb, our joy animates us to "go" with haste to share the joy and love of the Gospels.
***
Since the 2018 Synod on Young People, Pope Francis has spoken about the importance of the evangelization of young people. In our Division's three-year faith theme, which was approved in spring 2020, we seek to echo the Pope's continued summons for young people, and indeed all people, to listen, hear, and respond to the voice of God who calls us to "Arise!"
As a Catholic school jurisdiction, Greater St. Albert Catholic Schools has a unique opportunity to engage, encourage, and support the young people for whom we care in the development of a relationship with Jesus Christ. This opportunity extends - by way of our joint mission and collaborative partnership between school, home, and parish - to all members of our Catholic educational community…including families and staff.
The Pope invites all of us to respond to Christ's voice and to arise out of our own situations of darkness and difficulty. This faith theme has direct implications for a vital component of how faith is lived in our school communities through works of social justice, charity, and mercy.

"If you can feel God's immense love for every living creature…then you will be able to…bring his life to those of your friends…who suffer or have lost faith and hope."