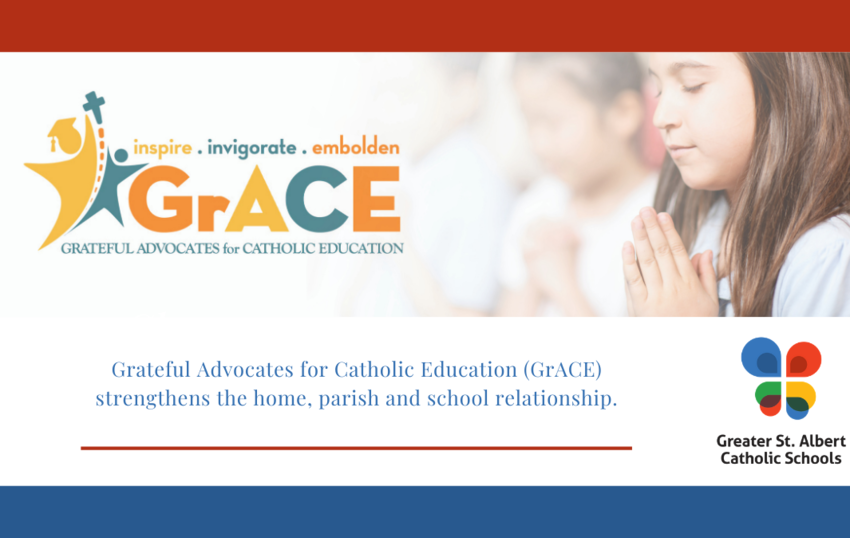 GrACE stands for Grateful Advocates for Catholic Education: advocating for publicly-funded Catholic education in the province of Alberta. Supported by the Alberta Bishops, Alberta Catholic School Trustees Association and Catholic School Superintendents of Alberta, its mission is to inspire, invigorate and embolden the spirit of Catholic education in order to unite, engage, educate and communicate with one voice. GrACE is a partnership of stakeholders resolutely committed to Catholic education within the province of Alberta. GrACE launched in November 2018 with representatives from 16 Catholic school divisions across the province.
For more information visit: Provincial GrACE @Grace4cathed  |  Provincial GrACE Newsletters
Did you know?
Catholic education in Alberta has existed for 160 years;
Catholic education affirms parents as their children's primary educators and respects the rights of parents to choose the school that meets their needs;
Alberta is one of three provinces in Canada with publicly funded Catholic education (Ontario and Saskatchewan are the other two provinces);
Catholic schools' want to ensure that every child knows and experiences the love of God through the witness of their community;
Catholic schools are committed to academic excellence;
There are 24 Catholic boards and 450 Catholic schools in Alberta, NWT and Yukon;
Approximately 183,000 students currently attend Catholic schools in Alberta;
Non-catholic families are welcomed to attend Catholic schools (if sufficient space and programming available).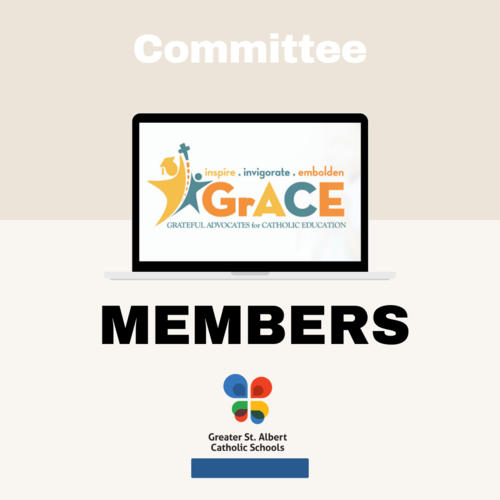 2021-2022 GrACE Committee
Brendan Borbandy - Student
Clint Moroziuk - Superintendent
Colin Loiselle – Religious Education Consultant
Joe Becigneul – Trustee
Lisa Giacobbo – Vice-Principal
Louise Sansano - Teacher
Maureen Wade – Parent
Michelle Baril – Principal
Shanlyn Cunningham – Manager-Community Engagement and Communications

Mission Statement
Grateful Advocates for Catholic Education (GrACE) strengthens the home, parish and school relationship by:
Modeling and witnessing to our Catholic faith;
Sharing our passion for Catholic education;
Shepherding and celebrating the uniqueness of our Catholic schools.
2021-2022 Strategic Plan Priorities
Priority Outcome 1
Promote GrACE with the goal of increasing the diversity and participation of a broader membership.
Priority Outcome 2
Inform the home, school, parish community about the unique mandate of our schools.
Priority Outcome 3
Establish social connectivity to enhance public understanding of our mission.

2021-2022 Strategic Plan