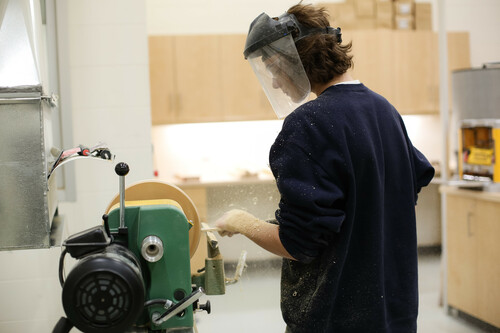 Preparing Students for the World of Work (WOW!)
Greater St. Albert Catholic high schools provide many WOW opportunities for students to prepare them for success after graduation.  Gallup researchers, Rath and Harter (2010), confirmed from over 10,598 interviews that only 19% of the people "liked" what they did each day at work. To reverse this trend, they explained that youth had a chance to identify their strengths and to leverage them to determine what they might want to do while they were young (13-16 years old). The majority of those who loved what they did had time to explore work experience, to learn from a mentor who was already in a career and to explore a trade through RAP (Registered Apprenticeship Program).
To learn more about student eligibility, the range of trades available visit our
What is the Registered Apprenticeship Program (RAP)?
RAP is a program that enables you to work in a trade and to learn about it while also gaining credits towards in high school.
Why get involved in RAP?
RAP has been one the routes to career wellness for high students because they learn about their passions and they find out whether a career path is for them or not.
My journey with RAP has been one of success. It all started in grade 11 when I was in Ms Rieger's office and noticed that she had a bunch of info about RAP, and I popped the question, "What's all those shenanigans there?" She told me it was an early look into the real world and that you can get a head start on your potential career in the trades. My interest was peaked; next day, I was filling out all of the papers. I had a really awesome team of people helping me find a placement in my grade 12 year so that I could start working half-days. After the football season ended, Marcel, my careers rep, called me up and said he might have a potential placement at Martin Deerline. About a week later, I had an interview lined up and was hired the day after. 
Trying to balance the school studies and my work proved to be difficult, but I feel I was much better prepared than most students coming out of high school.  After my three-month probation was complete, I was given the option to apprentice in either Heavy Duty, OPET, Automotives or the AG Tech Trade. Naturally, being a kid from Saskatchewan, I chose AG; best job I've ever had! Granted, I've only had a handful of jobs, but I love what I do. I also won't complain about the pay checks that go hand-in-hand with the technical experience I've gained. I'm heading to school in January to complete my first year of apprenticeship training and hope to be a fully ticketed Journeyman by the time I'm 22.
Josh Brown, Alumni, St. Albert Catholic School