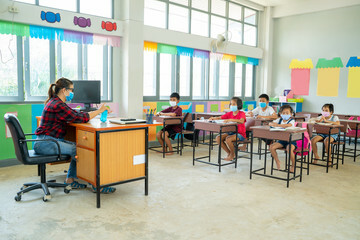 Faith-based Education
As a Catholic school division, Religious Education and faith permeation are central to who we are. We seek to nurture your child's faith through religious education, and through opportunities to participate in prayer (personal prayer and class/school celebrations and liturgies).
Face-to-face Education

In Scenario One, in-school classes resume with health measures in place. Just as in any school year, students will be assigned to their classes with a designated teacher(s). When possible, the teachers will move to the classrooms to limit the movement of students in the hallways.
If a student needs to stay home due to illness, their classroom teacher will provide work to support their learning. If the student is away for an extended period of time, there will be an option for the student to be supported online (i.e., scheduled Google Meets, email support).
Online Education
Students who learn online will be part of an online learning group with an assigned teacher from the Division. Online students will remain enrolled at the school where they registered for 2020-2021. If you have not yet registered your child, to get started, please follow one of the links below. Please note: A registration is not considered complete until reviewed and approved by the school Principal
Based on the recent survey results, principals have contacted those parents who provided contact information to enroll their child(ren) in online education. If you did not complete the survey but are interested in online learning, please contact your child(ren)'s school principal. Once your child is enrolled, you will have a teacher assigned who will then share information required for school start-up. The deadline to register for online classes was Aug. 28, 2020.
This learning format will include live online teacher instruction, directed activities, and assignments that students will complete independently. Teachers will focus on the core subject areas (English/French Language Arts, Math, Science, Social, Religion, Physical Education, and Health). Students who are also registered in Sports or Recreation Academies will continue in these programs which are more fully described in the section on Starting School. Options will be provided, when possible. The teacher will assess and report on student progress in these areas. The parents/legal guardians would need supervision of their children in their daytime environment (home, caregiver) but would not require that supervisor to teach their children.
If a child becomes ill and cannot attend face-to-face school, the classroom teacher will continue to maintain contact with the child unless the illness is lengthy. If the illness is longer than one-two weeks, the parent/legal guardian will have the option to register in online programming. If the child is registered in online programming, the online teacher may offer face-to-face opportunities for the class to get together for a safe gathering. The health measures would be fully explained to the parents/legal guardians. They and their child would decide whether or not to take part in these opportunities.
Online Learning - Common Questions
What will programming look like?
The programming will be very similar to what is being offered in face-to-face classes. Your child will take core courses: English/French Language Arts, Math, Social, Science, Religion, Physical Education, and Health). Once the online core courses begin, teachers will review what is possible for option courses. Both face-to-face and online education teachers will use common course outlines and key learner outcomes so that what is studied is the same whether your child is face-to-face or online. The topics will be paced to enable a student to shift from one mode to another, if necessary. Online education is available to all students, including students who are registered in our academies, IB, or AP courses.
Will my child have a teacher for his/her grade level?
Online English Programming
We currently have sufficient enrollment to provide you with K-12 English programming. Unfortunately, we do not have sufficient enrollment to offer Pre-Kindergarten online programming.
Online French Programming
We currently have sufficient enrollment to provide you with Kindergarten-Grade 3 French programming. Initially, we did not have sufficient enrollment to offer a full roster of French Immersion courses for Grades 4-9. After monitoring enrollment for the last three weeks, we have decided to add French programming (Gr. 4-5, Gr. 6, Gr. 7-8, Gr. 9), offering core subjects.
What do I do if my child starts in online programming and then would like to switch back to face-to-face programming?
Your child will start in his/her pathway of choice in our school. Because you are one of our families, you will have opportunities throughout the year to indicate whether or not you choose to stay in online education. Each reporting period, you will receive an email on certain dates, as outlined in the 'Reporting and Notification' section of the Parent Guidebook. You may also contact the acting school principal at 780-459-6616.
Will my child have more than one teacher?
We have started staffing and will provide your child who is in Kindergarten, Grade 1, Grade 2, Grade 3, Grade 4, Grade 5, or Grade 6 one homeroom teacher to each grade or a combination of neighbouring grades (e.g., K-1) of the online class of students. If your child is in grades 7-9, we will assign Humanities (English/Social) and Math/Sciences teachers to each grade level. So, if your child is in Grade 7, for example, he/she would most likely have two teachers. Additionally, these two teachers would each teach either Physical Education/Health and/or Religion. In high school, your child will have subject-specific teachers.
Will the staggered entry also apply to those students engaged in online learning?
No. After review of the requirements to prepare for  K-9 online learning, online teachers will prepare for programming during the first week of school and K-9 online students will start school on Sept. 8, 2020. High school online students start school on Sept. 1, 2020.
How do I register my child and get my child's timetable/class schedule?
If you haven't already done so, you will complete a registration form for our school. Your school principal will notify you about whether or not your registration is accepted. Then, he/she will register you in classes through the school office (i.e. we will contact you and ensure that your child and you both know which courses your child will be registered in).
Are parents able to accompany younger children to school on staggered entry days to help carry supplies?
No. We are working diligently to ensure that visitors to buildings are limited to increase safety for students and staff. That being said, some schools are arranging for parents to bring in supplies in advance (on the operational days next week before school commencing) and are using their interview scheduling mechanism to ensure that appointments are made (time slots) to control the flow of people in and out of the building. This will be fine. We anticipate that assistance with supplies is only necessary for younger students.
Home Education
Some parents may confuse doing online education at home with home education. To clarify the difference, online education is provided by the Division, and home education is provided by the parent. Home Education is provided by the parent and governed by the Home Education Regulation. Our Division has prescribed requirements in our Home Education and Shared Responsibility AP 230. A parent may start a home education program at any time but needs approval from a supervising school authority.
International Education
Only international students already in Canada and who have pre-registered for the 2020–2021 school year will be accommodated. The province has indicated that after Canada lifts current travel restrictions and non-essential travel resumes, international education programs can resume. Any international students will need to follow quarantine requirements and any relevant public health orders.
Reporting and Notification Periods
Once your child has started the year in either face-to-face or online education, you will receive report cards based on the school's reporting periods. You will have more than one opportunity to consider whether you choose to continue with face-to-face or online programming or vice versa. We aim to keep students moving forward in one programming mode during a reporting period, whenever possible. This ensures academic success for all students. If our online school program that you requested is full, options will be explored for how to continue with your designated school's programming.
On Nov. 5, principals communicated with parents who wished to switch their children from face-to-face to online programming or vice-versa. It was also communicated that while there will be another opportunity to make this choice later in the school year, we may not be in the position to honor switches from face-to-face to online programming due to having insufficient rooms and resources. Each request will be considered and every effort will be made to accommodate parents' choices.
Please see the notification periods for your child's school in the chart in the Parent Guidebook.
Common Course Outlines and Online Materials
A group of 50 K-12 teachers met over the summer to identify essential outcomes to be used by online and face-to-face teachers for common course outlines across our Division. Therefore, students will be engaged in similar learning whether they are in online or in face-to-face contexts.
Also, this group of teachers prepared online lessons and materials for school start-up and will continue to meet throughout the year to further develop this repository of lesson materials. This is an opportunity for us to learn collaboratively and to share across face-to-face and online teaching contexts to support students who may have to switch between face-to-face and online education.


Smooth transitions between face-to-face and online education are based on common outcomes and course outlines.