View All News Posts
École Father Jan's House System - A story about school spirit, belonging and community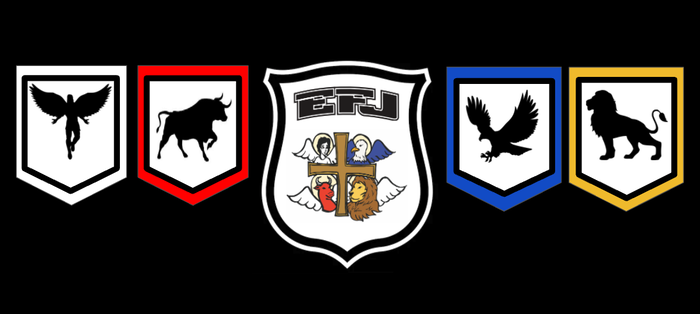 École Father Jan, a Catholic French Immersion Elementary, has introduced a house system into their school. The house system promotes a welcoming, engaging, and inclusive school community and culture. A house system essentially separates the students and staff into four "sub-units," named after the symbols of the Gospels: Angel, Ox, Eagle and Lion. The houses are equipped with their spirit colours, based on the Medicine Wheel. École Father Jan has intentionally designed this program to incorporate their Catholic faith, First Nation, Metis and Inuit teachings, academic initiatives, social justice/service projects, extracurricular activities, and positive behaviour supports. Every single event or teaching they do falls under these categories. The school has also dedicated an entire classroom, the House Room, where appropriate resources can be found that are aligned with the seasonal teachings of the school. 
When this program started, students who were in kindergarten to grade 6 and staff were placed into the "houses" based on the characteristics of the gospel associated with that house. At the beginning of every year, they now have a sorting ceremony for kindergarten students. In this ceremony, the kindergarten students draw a house at random from the sorting box and join their new house. Before the pandemic, all the students would meet in the gym with their houses to welcome new members at the sorting ceremony. The kindergarten class now does a special sorting ceremony in the House Room where their principal, Mr. Holstein, puts on an excellent display with candles and lights to ensure they still have a positive experience. 
École Father Jan was trying to find new ways to adapt their programming to increase engagement and a sense of belonging with their students and families. A committee was formed to increase school spirit and create a school to which students, parents, staff, administrators, and the wider school communities can be proud. This is where incorporating a house system into their school was suggested. After conversing with the administration at Albert Lacombe School, who has been using the house system already, the École Father Jan team soon realized how beneficial this system might be for their community. 
The principal, Evan Holstein, has been a crucial part of implementing this system, and he has seen a positive change within his students and staff. Students collect points through engagement in activities such as reading challenges, social justice projects of collecting donations, intramural activities, theme days, and speaking French. Students also earn points and awards by demonstrating their core values of peace, respect, and responsibility. Each student's points contribute to their overall house score; the house with the highest score at the end of the year wins the House Cup! The house system encourages and fosters friendships and positive relationships through community and friendly competition with students of other grade levels. This inspires leadership and mentorship opportunities for all to learn and grow.