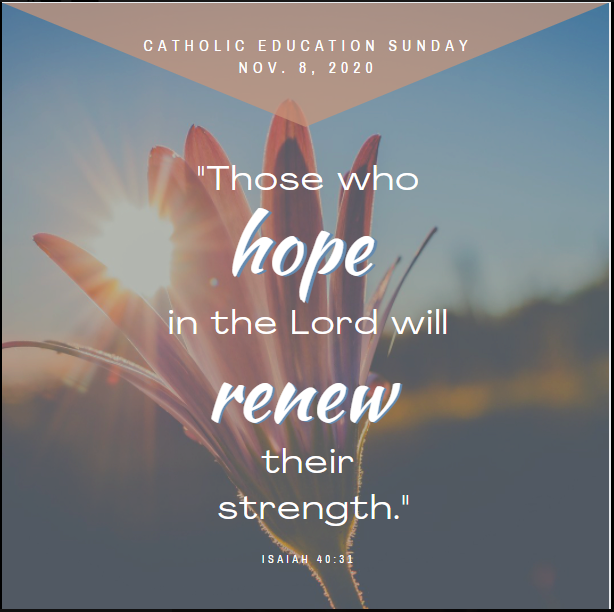 Catholic Education Sunday will be celebrated this year on November 8, 2020.
The theme for 2020 – Those who hope in the Lord will renew their strength (Isaiah 40:31) – is particularly relevant during this pandemic. Catholic schools provide stability, moving us forward even in times of hardship and uncertainty. This is because we know that our hope is in God, Who is forever faithful, Who never leaves us, and Who always holds us in the Everlasting Arms. 
This year's theme was chosen for a number of reasons:
The theme is rooted in scripture. God's people have experienced trial and are called to hope and renewal throughout all generations.
The Alberta Bishops have set in motion a movement of Christian renewal during this time of pandemic.
Pope Francis, in his new Encyclical: Fratelli Tutti, uses "hope" as a central theme during his reflections and call to action.
Hope and Renew are verbs...actions. This theme invites us to action. How will you HOPE? How will your RENEW?
Please pray the annual Novena for Catholic Education from October 29 to November 6.
Here's what some member of our faith and learning community have to say about Catholic Education
RESOURCES